Custom Hardwood Flooring Refinishing Installation
Professional Hardwood Flooring Installer
Striving for Hardwood Flooring Perfection
Are you looking for a hardwood flooring company you can trust to transform your space? Look no further than Custom Hardwood Flooring Refinishing Installation. With years of experience and a team of skilled hardwood flooring professional installers and refinishers, we specialize in creating unique and custom hardwood flooring solutions for homes and businesses throughout the Los Angeles area. 
Our commitment and passion for delivering hardwood flooring with the utmost reliability and attention to detail are second to none, ensuring that your floors look beautiful and are built to last. From custom designs to installation and refinishing, we are your one-stop shop for all your hardwood flooring needs. 
In the world of hardwood flooring,  good tangible products, and professionally done services, such as the installation of a hardwood floor, refinishing, repair, and restoration of wood flooring; goes hand in hand. 
As a professional hardwood flooring contractor We aim to not only be merely someone who installs your wood flooring or someone who just does sanding and refinishing we want to to be able to bring your hardwood flooring vision to life. CHFLA is here to listen, to care and be your professional guide through your wood flooring project.
Sincerely concern about what you need as a property owner. We at CHFLA puts into action your design vision. Whether it be as simple as restoring your wood floors or as complex as installing custom parquet floors in herringbone or chevron pattern, we got you!
Custom Hardwood Flooring Refinishing Installation is a Los Angeles hardwood flooring contractor that is license, insured, bonded and highly experienced in delivering quality hardwood flooring services. We value honesty, integrity, reliability, and expert hardwood flooring skills.
I have hired Uri Vaknin at Custom Hardwood Flooring three times for various properties - one was for my own house - a 1926 Spanish style with Original Brazilian Mahogany Floors which he did beautifully. The latest (2022) was for another 1928 House that I had just bought and he refinished all the floors and they look fantastic. I would always use him and his company anytime I needed floors refinished......plus he's a really nice guy!
I was so impressed with Uri and his team from Custom Hardwood Flooring. I hired them to install gym flooring in a bedroom we were into a gym. They were meticulous with amazing attention to detail. The flooring had to be carefully shaved down for the door to close and open. They spent the extra time and the extra labor doing this at no extra cost to us. I am incredibly happy with their work and highly recommend them to anyone!
We could not be more happier with our experience with this company. We had them installed hardwood flooring in our home and the over all experience was just impressive. From meeting with Uri, to putting back the furniture after the installation of the wood flooring, everything was done professionally and efficiently. A wonderful flooring company to work with and made us feel that we were taken cared of with our wood flooring needs. Will definitely hire them again. Thank you.
This is what Custom Hardwood Flooring LA strives for since 1994. We pride ourselves on the fact that the bulk of our business is from returning customers and referrals from previous clienteles. This tells us that we did make a difference. We pride ourselves on our ability to be a reliable and contributing part of teams put together by professionals in the construction, real estate, design, residential and commercial industries.
We are looking forward to being part of your next hardwood flooring project.
Our business model is simple, to offer the highest quality hardwood flooring craftsmanship and great customer service at a reasonable price.
This model does not always make for the cheapest price, but you are guaranteed the best value.
We offer reasonable and competitive pricing in the Los Angeles Area for Hardwood Floor installation and refinishing services.
We stand by all of our bids ~ No hidden charges.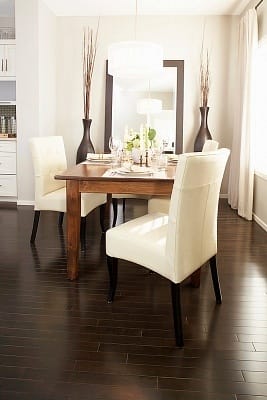 Very hands on approach, in taking care of every aspect of installation, sanding, staining, and refinishing of hardwood floors.
From your initial free estimate to the timely completion of your project, we actively supervise and participate in each and every job.
The result is a more controlled process that you can feel good about.
Need to schedule a free on-site estimate?
Custom Hardwood Floors LA, a flooring contractor, offers Hardwood Floor Refinishing and Hardwood Floor Installation Services throughout Los Angeles.
Call now Toll free: 323-799-9954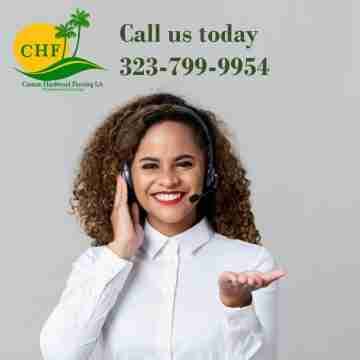 Oak Park, Simi Valley, Agoura Hills, North Ranch, Chatsworth, Santa Monica, North Hills, Westlake Village, Calabasas, Woodland Hills, Hidden Hills, Malibu, Thousand Oaks, Los Angeles, Beverly Crest, Beverly Hills, Brentwood, Burbank, Culver City, Glendale, Encino, Hollywood, Holmby Hills, La Canada, Flintridge, Los Feliz, Monrovia, Pasadena, Pacific Palisades, Rancho Palos Verdes, Redondo Beach, Manhattan Beach, West Los Angeles, West Hollywood, Westwood Tarzana, Torrance, Sherman Oaks, Studio City, San Marino, Casa Conejo